Corporate

Social Responsibility
Sharing Our Plate with Others
San Miguel Food and Beverage, Inc. recognizes its responsibility in helping create a better world, starting with the areas where its businesses operate.
San Miguel Foods
San Miguel Foods (SMF), the Company's food division, is committed to doing its part in providing solutions not only for nutrition and health, but for other pillars of social development as well.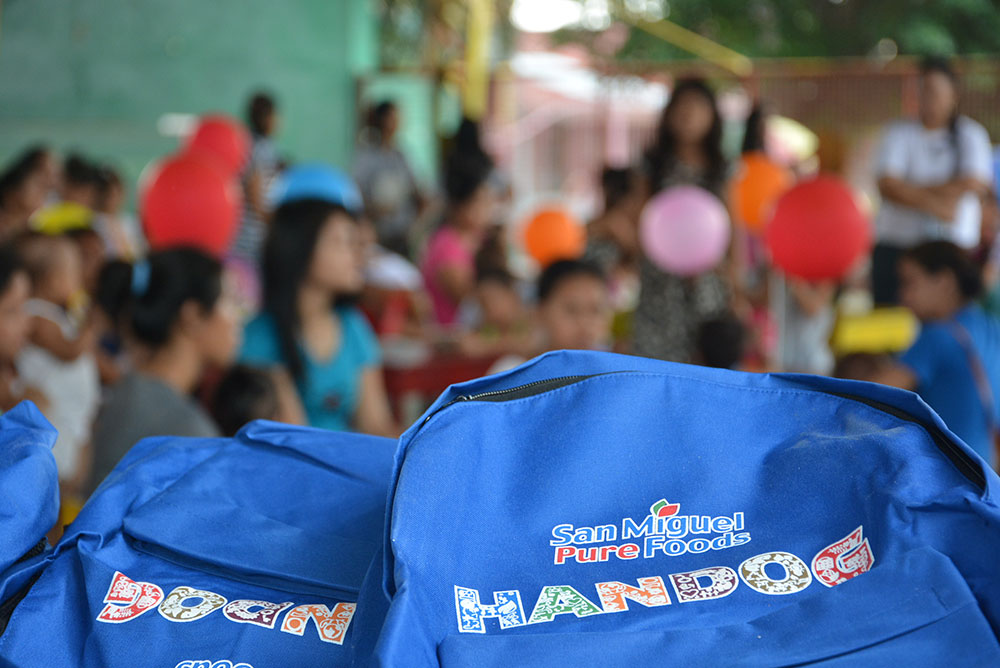 From what started out as a supplemental nutrition program for children affected by malnutrition, Handog Lusog Nutrisyon Para Sa Nasyon, which was launched in 2010, has now evolved into Handog—a simpler name for the flagship Corporate Social Responsibility program of SMF, but definitely more holistic in coverage with its five (5) subcategories: Karunungan, Kalusugan, Komunidad, Kalikasan, and Kabuhayan.
In 2017, two (2) students from SMF's Future Leaders Scholarship Program graduated from their respective courses, with one (1) passing the board exams for Accountancy. While in college, SMF granted them annual financial assistance, full tuition, monthly stipend, book allowance, and free trainings. Meanwhile, SMF donated educational supplies and rehabilitated 12 schools nationwide. Two (2) classrooms and a municipal playground were also built for pupils in Sumilao, Bukidnon.
Enriching the overall health and well-being of communities also continued to be a priority of SMF. This was done by providing free and accessible health services through community clinics, medical missions, and nutrition feeding programs. To enhance its feeding programs, the following activities were carried out: nutritional and food safety talks for teachers and parents, meal preparation and cooking demonstrations, and starter kits distribution, among others. A total of 1,000 children from 22 different schools and barangays nationwide benefited from the program, resulting in a 100% overall nutrition improvement.
Cooking demonstrations led by the SMF Culinary Center were also conducted for two (2) barangays in Tagoloan, Misamis Oriental. This aimed not only to show the 105 participants how to prepare delicious meals for their families but more importantly, to introduce sustainable livelihood opportunities for them. SMF also led tree planting and coastal resource management activities to champion its duty in protecting the environment.
As it kicked off its pioneering Handog program, SMF, through its employees and business partners, further actualized its vision of "nourishing and nurturing families worldwide". To promote employee awareness and participation, Handog Roadshows were conducted in SMF's offices and plants in Luzon, Visayas, and Mindanao. In the spirit of giving back, employees were able to generate more than P1.2 million from their very own pockets to be used for future initiatives of the program. This reflected a strong sense of malasakit embedded in SMF's culture, driving SMF to focus its efforts in establishing Handog as its flagship Corporate Social Responsibility program.
San Miguel Brewery Inc.
Deeply rooted in its corporate character, the Company's beer division under San Miguel Brewery Inc. (SMB) continues to anchor its social development initiatives in programs that put life and meaning in "doing business honorably."
SMB builds on its successes as it pursues social development in the long term. Its programs are designed to be able to make a difference and ultimately contribute to national development.
SMB epitomizes its brand of corporate citizenship by caring beyond business through sharing the benefits it derives from the society. And inherent in its growth, social development endeavors are founded on synergy, shared values and shared vision with its various stakeholders.
Since 2010, SMB has been conducting the nationwide 'Trees Brew Life' project under its flagship 'Buhayin and Kalikasan' environmental program in hopes of ensuring the availability of water supply across the country.
Ginebra San Miguel, Inc.
In doing business, the Company's spirits division under Ginebra San Miguel, Inc. (GSMI) has always been guided by its mandate to impact communities in a positive way.
Corporate Social Responsibility is deeply ingrained in the corporate culture of GSMI. GSMI believes that giving value to its shareholders includes upholding its commitment to good corporate citizenship—finding ways to uplift our countrymen's quality of life, and doing its share in making the Filipino dream a reality through community development, livelihood opportunities and education.
GSMI provides full scholarship grants to select students in five (5) state universities nationwide. It has also partnered with TESDA in a Technopreneur Program that provides beneficiaries with enhancement seminars on mixology and bar operations to assist them in running their mobile bar businesses.